WELCOME TO BIRTH RIGHT TRAINING ACADEMY & Susan Ross, Hypnotherapy
I am so pleased you have landed here at our Birth Right Training Academy where we are changing minds/changing lives.
Let's start at the very beginning for that is the best place to start! Parenting begins at conception and for 40 weeks there is the opportunity to grow and nourish baby, not just physically but to lay down an amazing blueprint for life.  Our training gets couples thinking about what sort of human being they want to create and give to the world
A baby in utero, is hungry for knowledge about the outside world, he wants to know who is in his family and learn about love, and listen to poetry and music and be educated.  It is our aim to teach pregnant couples how to develop a truly special relationship with their unborn baby and learn about the important imprinting during pregnancy which will lead to a beautiful birthing experience.  I want every woman to have good education, amazing doula support and feel empowered about her choices.
At the Birth Right Training Academy you have the opportunity to make a difference to how babies enter the world and how women feel about this amazing experience.  Imagine being able to offer Inside Birth® prenatal class, plus support as a birth and post-natal doula.  This is, indeed, the ultimate education for women and their partners.
I am the founder and Director of Birth Right, with a background in midwifery.  I have worked in many different areas, from birth centres, delivery suites, newborn care, early discharge programs, childbirth education, antenatal clinics and much more, in both public and private hospitals.  My career was broadened by extensive work in small regional hospitals, interstate and overseas, as well as child and family therapy counselling, philosophy, community health and family planning.  As a hypnotherapist, NLP Coach and Time Line Therapist®, I offer one on one sessions, for pregnancy anxieties and fears, birth debriefing, unwanted habits.  Healing with hypnotherapy happens quickly and easily.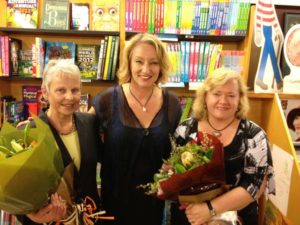 I am the creator of Inside Birth® Educator Training and our Birth Doula and Post-Natal Doula Training. I am a public speaker, communicator and published author of 2 books, 'Birth Right' (Random House) and 'Doulas – Why every pregnant woman deserves one' (2012) and Inside Birth® Watercolours Relaxation CD. I also love being Mum to 2 adult sons.