BLACK FRIDAY SALE – 30% OFF

ONE VOICE. THE PREGNANT VOICE. SUPPORT WOMEN TO USE THEIR VOICE AND BE HEARD
This teaching is: UNDERSTANDING 'THE MIND', what goes on INSIDE, COMMUNICATION, CONNECTION and how to THINK outside the box.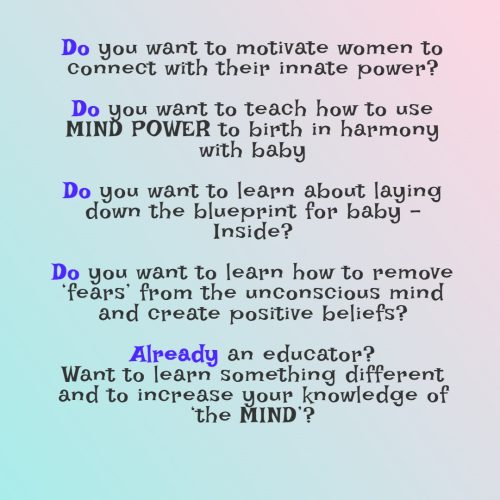 THEN THIS COURSE IS FOR YOU!
Inside Birth – it is NEW, it is DIFFERENT, it is all about MIND POWER. Birth with stillness, in harmony with baby.
1. ALL ONLINE – self paced learning
2. NO PREVIOUS EXPERIENCE REQUIRED
3. FULL MENTORING PROVIDED
4. START IMMEDIATELY
5. RECEIVE ENTIRE 4 UNIT PROGRAM READY TO TEACH
We are all conscious, sentient, and at our most vulnerable from conception through early childhood.
We need to be loved and welcomed from our very earliest beginnings. INSIDE BIRTH teaches parenting from conception, conscious awareness of the power of words, thoughts and our relationship to creation and birth.
The Inside Birth Educator will develop a deep regard for all that you are capable of influencing by thoughts, action and words.
"Thank you so much Susan it was amazing !!!! to have been taught by you
😊 your knowledge stories and workshops were amazing I am still on a high feeling positive and empowered and I can't wait for my career to begin many thanks to you." Mel
"thank you so much for an amazing and inspirational course!! It's been incredibly uplifting. Inside Birth® has opened a whole new understanding of Birth for all of us. You are an amazing mentor and we look forward to working with you through our journey as Inside Birth® Educators." Kate, Mel, Romi Nov. 2017
REQUIREMENTS FOR ENROLMENT
ESSENTIAL requirements include:
A passion for teaching knowledge to empower pregnant women and their partners

A willingness to learn about the untapped power of the unconscious mind and hypnotic relaxation

An open mind. The educator must keep an open mind about birthing

Wanting a business opportunity
DESIRED requirements include:
Previous experience working with pregnant women (midwife, doula, childbirth educator, Hypnotherapist) or 'other'

Previous experience working with groups

Previous business experience (small business, sole trader)

A belief in the power of the mind
ENROLMENTS NOW OPEN. CLICK ON THE LINK TO GET STARTED
Who designed Inside Birth and WHY?
This training program has been conceived and birthed by Susan Ross, with 40+ years experience in pregnancy, birthing and early parenting. I am a published author, public speaker, doula trainer, Inside Birth® Educator/Trainer, Educator, Mentor, with a background in midwifery AND love being Mum to two adult sons. I am a Hypnotherapist, NLP Coach, Time Line® Therapist.
"I have seen numerous different childbirth education programs come and go over many years, and I have taught most. There was always 'something' missing. I have combined my 40+++yrs experience in midwifery, my work as a childbirth educator, doula trainer, hypnotherapist, child & family therapist, published author, and Director of Birth Right Aust., to bring you this transformational education. My wish is for every pregnant woman to experience the INSIDE connection of her mind, her body and her baby, to be empowered with wonderful knowledge, and to understand she has choices. I want her to know and feel the beauty of pregnancy, labour, birthing and becoming a parent. I want her to trust and feel safe. It is every woman's birth right to be the CEO of her unborn baby, her pregnancy and her birthing, and that happens with Inside Birth®". Susan