The 5 Brain Waves and Birth
What are Brain Waves?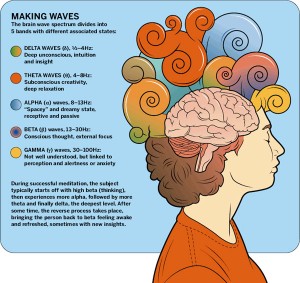 Brain waves are produced by synchronized electrical pulses from masses of neurons communicating with each other. The 5 brainwaves are Gamma, Beta, Alpha, Theta and Delta arranged from fastest to slowest brain waves. Brainwave speed is measured in Hertz (cycles per second). The first brain waves ever detected were the Alpha Brain Waves which was discovered by Hans Berger on year 1929.
Different brainwave frequencies are used for different types of activity. Whatever you are doing, one frequency will be more active than the others, even though they are all detectable at all times.
1. Gamma Waves (40 – 100 Hz)
Gamma Brain Waves are the fastest brainwaves (high frequency) and the most recently discovered brain wave state, relate to simultaneous processing of information from different brain areas. These are involved in higher processing tasks as well as cognitive functioning. This is important for learning, memory and information processing.
• Too much Gamma Waves result in: Anxiety, High Arousal, Stress
• Too little Gamma Waves result in: ADHD, Depression, Learning Disabilities
• Optimal Gamma Waves result in: Binding Senses, cognition, information processing, learning, perception, REM sleep
• Gamma Waves can be increased through: Meditation
2. Beta Waves (12 – 40 Hz)
Beta Brain Waves are associated with normal waking consciousness and a heightened state of alertness, logic and critical reasoning. Having the right amount of beta allows us to focus on our task whether at school, work or sports performance. However, exposing too much beta waves also results in too much stress. Stress produces stress chemicals like
• Too much Beta Waves result in: Anxiety, Adrenaline, High Arousal, Inability to Relax, Stress
• Too little Beta Waves result in: ADHD, daydreaming, depression, poor cognition
• Optimal Beta Waves result in: Conscious focus, memory, problem solving
3. Alpha Waves (8 – 12 Hz)
Alpha Brain Waves are dominant during quietly flowing thoughts, while you are in deep relaxation, or when you are slipping into a lovely daydream or during light meditation. Alpha is the frequency between our conscious thinking and subconscious mind
• Too much Alpha Waves result in: Daydreaming, inability to focus, too relaxed
• Too little Alpha Waves result in: Anxiety, High Stress, Insomnia, OCD
• Optimal Alpha Waves result in: Relaxation
4. Theta Waves (4 – 8 Hz)
Theta Brain Waves occur most often in sleep but are also dominant during deep meditation. In theta we are in a dream; vivid imagery, intuition and information beyond normal consciousness awareness. It helps us improve our intuition, creativity, and makes us feel more natural.
• Too much Theta Waves result in: ADHD, depression, hyperactivity, impulsivity, inattentiveness
• Too little Theta Waves result in: Anxiety, poor emotional awareness, stress
• Optimal Theta Waves result in: Creativity, emotional connection, intuition, relaxation
5. Delta Waves (0 – 4 Hz)
Delta Brain Waves are the slowest but loudest brainwaves (low frequency). They are experienced in a deep, dreamless sleep and in very deep, meditation. Commonly found in infants and young children. Deep sleep is important for deep healing and regeneration.
• Too much Delta Waves result in: Brain injuries, learning problems, inability to think, severe ADHD
• Too little Delta Waves result in: Inability to rejuvenate body, inability to revitalize the brain, poor sleep
• Optimal Delta Waves result in: Immune System, natural healing, restorative sleep / deep sleep
Birthing and Brainwaves
During pregnancy and birthing it is important to have the right balance, so you are alert, but in a very, very relaxed state and totally in control of keeping your baby calm and safe during labour and birthing. This is what you will learn during our Inside Birth® prenatal classes – how to take yourself to a very, very deep place of ultimate relaxation so you can birth just the way you want.
http://www.birthright.com.au/#