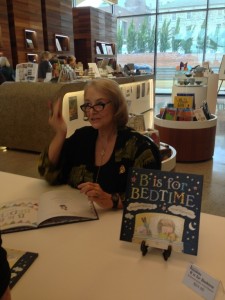 "B is for Bedtime" – this delightful picture book was launched at the Blue Mountains Cultural Centre in Katoomba on Sat. We turned on a typical wintry day, thick fog, rain and a bit chilly! Just a perfect day for curling up in bed with your little one and reading this beautifully illustrated book.
I am always impressed by children's books with amazing illustrations. Only a handful of people have these skills and I am not one of them! I still carry the emotional scars from school, and those art classes! The original drawings were on display for all to admire.
This is a great book for all pregnant women to get and read to your unborn baby. You will have great fun describing the drawings to your baby, and if you make a habit of reading at a regular time, i.e. bedtime, then you may be pleasantly surprised by how easily your newborn will settle, to the familiar story.
This book is available in all good bookshops and from our website shop (coming soon!)