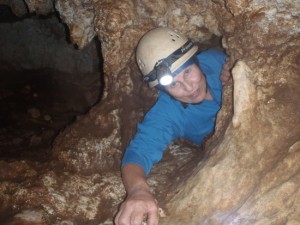 FACING FEARS
I took my 11yr old grandson to Jenolan Caves and we did the Plughole Adventure Cave. On their website, when I booked, I noticed 2 words 'Adventure' and 'Fun' so thought that sounded like a great idea! Why would one do any more research than that?
Fortunately there were only 4 of us on the tour, two, 20 'something' young men, who looked very fit and healthy and myself and Blake, plus two very experienced guides. I was greeted in the office with a look that clearly said you are an 'older' woman and probably cannot manage this challenge! As the guide said " do you know madam what this tour involves"? I, of course, still had those two words in my mind 'adventure' and 'fun', and as he explained in more detail, what exactly was involved, the idea of adventure and fun, were rapidly fading. As these four men eyed me up and down, and my 11yr old grandson was looking at me in that questioning way 'what have you booked for us'??, there was no way I could or would, be opting out. I responded with, 'sounds awesome', as my stomach churned!
We began with an abseil slightly terrifying, but the '20 something' young men announced they were also a 'little scared' not reassuring at all.
Now, there are the caves, which Blake and I have done before, where you walk in with a large group, they are beautifully lit, and everyone stands around admiring the very pretty stalagmites and stalactites, whilst engaging in pleasant chit chat. The Plughole Cave is not one of those. We were in overalls, hard hat with light and spent about 90mins. crawling on our belly or sliding on our back to fit through what seemed impossibly small holes. Team work was essential. Once one person had squeezed their body through an unimaginable tight space, you were then required to guide the following person, usually by grabbing one of their feet and positioning it on the next rock. There were times when the only way to fit through was head first, sliding on your back, or belly. Sometimes feet first, with both arms stretched up.
A problem for anyone who may suffer from claustrophobia (and I think everyone does, to different degrees), there is no turning around and going back to the beginning. This is not an option as it is physically impossible. Good to know! So once you start, you have to finish. The Guides were wonderful, calm, reassuring and even 'fun'! Lying on the ground, with the rock pressing firmly against your back and only centimetres to spare between hard hat and rock was indeed challenging.
Then came the last squeeze, around an S bend quite terrifying as it was such a tight fit you had to wriggle in the space to move forward, around and out, otherwise you were just stuck. I could feel the rock pressing hard up against my belly and back, very dry mouth, heart pounding and a feeling I was going to be stuck there forever. I needed coaching in the wriggling technique to work my body around that S bend.
I was out, I had done it! I am so proud of my grandson, who embraced this adventure with fear and excitement and the bravado that comes with being an 11yr old boy. We all admitted that it was very scary, but felt exhilarated by our achievement.
For seasoned abseiling and caving type people, this story will not interest you but for first timers, or anyone thinking about an 'adventure', I highly recommend it. If I had researched exactly what was involved, and had time to think about it, then I probably would have said NO WAY!
Overcoming fears is challenging, and it is so easy to be complacent and do activities which are comfortable and familiar, BUT, the rewards of facing fear and achieving a positive result, cannot be overestimated.
Fear defeats more people than any other thing in the world. To escape fear you need to go through it, not around it.
I am now ready for 2015 and all that it brings.