CONSENT IN THE BIRTHING ROOM?
There are so many 'consents' a pregnant woman is required to give throughout her pregnancy and birthing.  When you become a parent – AT CONCEPTION – you will find giving consent changes, from just consenting for yourself to now considering the rights and needs of your unborn child.  This continues for many years to come, always asking yourself "is this in the best interests of my baby/child".   "What are the risks?  What are the advantages? Are there any other options?  Should I seek a 2nd or even 3rd opinion?"  It poses huge challenges and sometimes conflict between a couple and their extended family.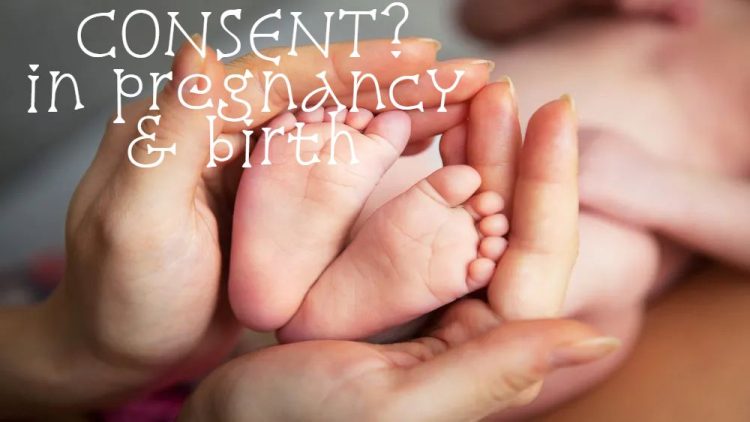 ALWAYS remember YOU are the baby/child's parents and only YOU can give consent.  We all make mistakes along the way and even regret some decisions made in the past BUT trust that 'in the moment' you made the right decision and gave consent for what you believed to be best for your baby/child.
PREGNANCY
I have been working with pregnant women for many years and I am still surprised by the inadequate system of required consent.  Indeed, if one even exists!  There is a lot of 'assumed' consent.
It is assumed by many, if not all caregivers, that tests (blood tests, ultrasounds, amniocentesis, harmony test, blood pressure, palpating the abdomen, vaginal examinations ………and the list goes on and on….) are ROUTINE or NORMAL or SAFEST FOR BABY.  It is taken for granted that all pregnant women have certain 'ROUTINE' tests and by the very nature of this habit – consent is a 'given'.
WHEN PREGNANT, HAVE YOU BEEN ASKED FOR CONSENT TO?
Take your blood pressure?

consenting on behalf of your baby

Listen to your baby's heart rate?
Touch your baby (palpate your belly)?
Do a blood test?
Do a pap smear test?
Lie down on the doctor/midwife bed?
Be weighed?
Strep B test?
GTT (glucose tolerance test)?
HAVE YOU BEEN INSTRUCTED TO?
Book hospital prenatal classes?
Complete various forms asking deeply personal questions?
Sign up to have a student present
Book into Delivery suite (when you were hoping for Birth Centre)
Book hospital physio classes
See an Obstetrician
Has each test been explained, in detail?  Reasons why?  Advantages and disadvantages for you and your unborn baby?
Has anyone taken the time to sit quietly and discuss what YOU want for you and your baby?
Did you feel like your requests were being respected?
BECAUSE CONSENT MEANS YOU MUST FIRST OF ALL UNDERSTAND, FULLY, ALL THE IMPLICATIONS INVOLVED IN CONSENTING.  YOU ARE DOING THIS ON BEHALF OF YOUR UNBORN BABY.
THE TOUCHY SUBJECT OF VAGINAL EXAMINATIONS
I want to make it very clear that there is no valid medical reason for doing 'routine' vaginal examinations on a pregnant or a labouring woman.  Of course there are a few rare medical situations where this may be necessary.
There is a common belief that 'routine' vaginal examinations at each pregnancy check-up is the norm!  IT IS NOT!  If you are in a situation where this is 'suggested' ALWAYS ask "what is the purpose? what information would you get? And what are you going to do with that information at this point in my pregnancy?"
VAGINAL EXAMINATIONS DURING LABOUR
No 'routine' vaginal examinations should be done during labour.  They don't convey any relevant information other than 'state of cervix in the moment'!  Of course there are rare exceptions.
ALWAYS, ALWAYS, ALWAYS, consent must be given (the woman understands what is being done and why), respect and privacy is essential and an explanation of what the outcome is.
DOULAS 
One of the most important roles a doula has is to make sure that all of the above happens for a woman with grace and dignity whilst working in harmony with all staff.  Sign up below and know you are guiding a woman at her most vulnerable time – to truly make informed consent.
https://birthright.com.au/training/birth-doula-training/