WHAT HAPPENS WHEN YOU GO INTO LABOUR HOLDING ON TO FEAR?
IF YOU'VE EVER BEEN PREGNANT OR ABOUT TO GIVE BIRTH, YOU MAY WELL HAVE BEEN EXPOSED TO, OR RECOGNISE SOME OF THESE 'helpful' TIPS THAT OTHERS JUST LOVE TO SHARE
THE 'ADVICE'
"It's normal to be fearful of birth"

"All women have fears going into birth"

"Don't worry, just leave it in the hands of your obstetrician, that's what you're paying him for"

"There's always the epidural available anytime you want it.  I had one and it was a life-saver"

"Look, birth is excruciatingly painful, but that's why they have drugs!"

"You're going to a great hospital where all the services are available if something goes wrong"

"Just book an induction, early, so it won't hurt as much. That's what my doctor has advised"
Unfortunately, it has become a battle for many women who, at the beginning of their pregnancy are excited, elated and positive and then just get slowly beaten down, and down, until they give in to the unrelenting verbal assault of pregnancy 'advice'!
Some of this 'advice' comes from people who actually believe they are 'setting this woman on the right path'!  Maybe they have had ONE experience of birth, which was an unexpected event, which has left them traumatised.  Maybe they consider themselves to be 'expert' because they work in the medical field or 'alternative' health area.  Maybe they are a journalist who has had a baby and now just has to write a book about it – to let the world know what it is really like!
Pregnant women will tell you it is rare to meet someone who tells them how amazing and wonderful labour and birth is, and the overwhelming joyous moment of meeting your baby on the outside
 HOW FEAR IMPACTS LABOUR & BIRTH
The unborn baby is listening and learning and absorbing and laying down a blueprint for how the world is and how it will be on the outside.  Baby feels his Mum's reaction to all comments made, all she reads, listens to and watches on TV/movies.  This is the time where we all form beliefs about our parents, about life, about other people, about relationships.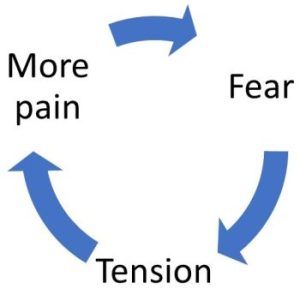 FEAR=TENSION=PAIN cycle is present in women during pregnancy and manifests in labour, if not addressed.  When there is a tight, tense muscle, in any part of the body, it causes pain.  The uterine muscle, by weight, is the strongest muscle.  This is the main reason we have so much medical interference in birth.
THE ANTIDOTE – 4 ways to ensure a happy, enjoyable labour/birth for you & baby
Notice that you are carrying fear from the present or past imprinting
Healing is essential to change negative & unwanted unconscious patterns about birth
Nurture yourself and practise relaxation/meditation
Learn to manage the negative comments by a well rehearsed one-liner e.g  "my baby and I would appreciate positive words only".  Think of it as educating the friends/family/general public.
A baby who is grown in a loving, safe and fearless womb environment is looking forward to meeting his Mum/Dad on the outside.  A joyous connection in pregnancy creates an enjoyable labour/birth and a happy, calm, confident and secure baby.
IMPORTANT:  Early imprints can be healed and transformed with hypnosis.  You and your unborn baby deserve to experience the Hypno-Pregnancy program.  More info. and to book