Weaning an older child requires patience and understanding.
Breastfeeding is a wonderful thing and you are giving your baby the best start in life.  It is a powerful, beautiful connection that is indescribable to anyone who has not had this experience.  Breastfeeding is the key cementing bond which lasts a lifetime between mother and child.
My children are close together in age and I was pregnant and/or breastfeeding for 5 years – non stop!   I breastfed my first until I was 24 weeks pregnant with my second baby and then breastfed him until he was 3 years old.  By then, I was very tired, very exhausted, very drained (literally) and those 5 years are a bit of a blur, but I loved it and would do the same again, but make sure I had a whole lot more support.
It is a real challenge to wean an older child.   Generally, if the child has not initiated weaning naturally by about 18 months, then the weaning needs to be mother initiated.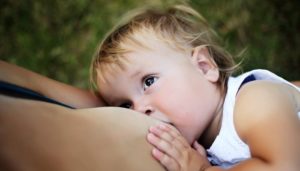 WHY DO MOTHERS WANT TO WEAN
There are many reasons why women want to wean their older child.  The obvious ones are returning to work, demands of other children and partner demands.
Other reasons include:
Over-whelming tiredness, often accompanied by understandable low iron levels.
Very restrictive for time management
Dealing with other people's comments and stares when out in public
Family pressure
Managing work, family and breastfeeding seems impossible at times
'I want my body back – especially my breasts' is a common catchcry
WHY WOMEN FIND WEANING CHALLENGING
GUILT – I think we marry guilt when we have children
FEAR – of mastitis and other stuff
FEAR – of having a very upset child, therefore more guilt
FEAR of it not working and easily 'giving in' and therefore having to start all over again – at some point
WORRY over 'am I doing the right thing at the right time' and will this do any long term psychological damage to my child
Pressure from partners/family
WHY CHILDREN WANT TO CONTINUE BREASTFEEDING
Of course it can become just a habit – a very comforting habit but for many older children it is about keeping Mum close and it is their only way (in their mind) of being reassured of love and connection, especially if Mum is busy with other children and activities.
SEPARATION
A child does not see themselves as a separate person from their Mum until around 3 years.  So separation is the main event that makes weaning very difficult for the child.  Separation happens if Mum is returning to work, if child is placed in a child care centre, if child is in the care of other family members on a regular basis, and many other scenarios.  We all have 'separation' from our babies/children and it is about how that is managed that can make all the difference to weaning.
SOME TIPS ON WEANING AN OLDER CHILD
Pick the right time – it is not the right time if Mum is returning to work or any of the above scenarios.  Pick a time when your child is in a really happy stage of development and family life is running relatively smoothly – it's never perfect!
Try and replace some daytime feeds with other distractions – NOT an ipad but replace with lots of cuddles, tickling games, engaged play – anything that keeps you both really close, physically, and is interesting enough to distract.
Talk with your child. This works brilliantly if you show them you understand their need for closeness and bonding and introduce them to other ways of having that special bond, just with Mum.
If your child has a doll or teddy they are particularly attached to, this can be a great way of transferring the conversation about weaning.
Cooking – introducing new flavour sensations with some special cooking time with just Mum is also a great distraction.
Relax and take the pressure off.  Look after yourself and trust the slow and gentle approach
Know this is not a quick fix.  Weaning at any age is a process that happens more quickly for some children while others take much longer.
It is important to acknowledge why your child still wants you close through the very special bond that is breastfeeding.  Take a step back and look at what else is happening in your life and why they may be 'hanging on' to this breastfeeding time and look at how you can wean them slowly and gently into feeling safe and confident with separating.
Don't expect miracles overnight.
Remember every child is different.  What worked for one will not necessarily work for others.
Be patient and embrace the weaning with much love, understanding and respect for your child's needs –  it will be worth it in the long run.