There is nothing more important than advocating on behalf of your unborn baby.  Parenting begins at conception and never ends, which is one of the many exciting things about becoming a parent.  There is no other time in your life when more personal growth occurs, than parenting.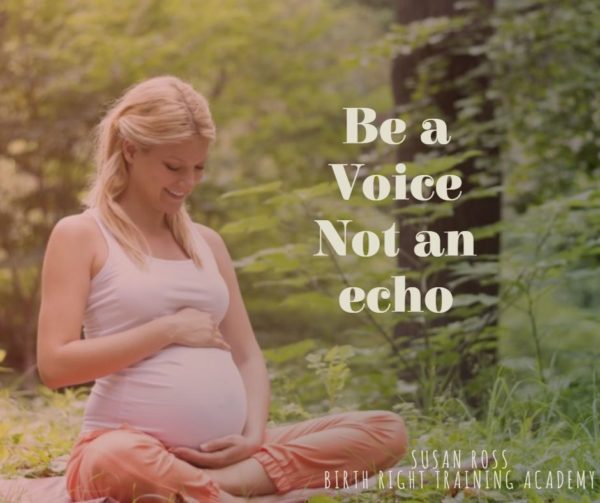 BUT ARE YOU A CROWD FOLLOWER?
Many subscribe to 'tribal' thinking or following the crowd, or the thinking of the masses, and this is very evident in pregnancy.  There seems to be never ending rules and policies and opinions about HOW to be pregnant and give birth.  It can be very difficult to break from this type of thinking or rather non-thinking.  It is a huge barrier to many as they believe what social, political, religious and other authority figures have told them is 'true'.
Most people don't know HOW to think because they have been told WHAT to think for so long, they no longer know HOW to think.
To experience true freedom you must learn HOW to think for yourself.
To achieve this you must be capable of critical thinking, which the 'masses' cannot do.  Most importantly you must learn to question.
We are FED so much authoritarian political correctness in all areas of life with SALES messages that are deliberately targeting the brain to believe in a mass mentality, without question.
PREGNANCY FOCUS
All the focus is on the pregnancy, often without any consideration for the unborn baby and his rights.  From conception the focus must be on what is right for the unborn baby, how and what, would he like to experience in the womb, what would he like to know and how would he like to enter the world.  Everything that happens to a woman during pregnancy, all her emotions and feelings and experiences, impacts on her unborn baby.  So every time a decision is to be made regarding the myriad of testing 'on offer', priority must be given to the impact on the baby.  Your parenting role and responsibility is to question, question and question – on behalf of your baby.  Learn to think outside the box to get the very best results for your baby.  It is called parenting and it begins from conception and never ends.
A pregnant woman deserves quality unbiased information and education.  She must feel safe and well protected and be encouraged to 'listen' to what she knows is best for her baby.
If you would like more information on how to question – everything and everyone during pregnancy so you can make the very best decisions on behalf of your baby then employ one of our Birth Right trained doulas, who will walk you through the political maze of pregnancy and birthing, supporting you to connect and parent your unborn baby.
https://birthright.com.au/doulas/find-a-birth-right-doula/